What are the Opioid Settlements?
Since 2021, Attorney General Josh Stein has announced $56 billion in national settlements with opioid companies that will help bring desperately needed resources to communities harmed by the opioid epidemic, including $1.5 billion to North Carolina. The agreements resolve litigation over the role of companies in creating and fueling the opioid epidemic. The agreements also require significant industry changes that will help prevent this type of crisis from ever happening again.
---
What is the North Carolina Memorandum of Agreement (MOA)?
A Memorandum of Agreement (MOA) between the State and local government directs how opioid settlement funds are distributed and used in our state. To maximize funds flowing to North Carolina communities on the front lines of the opioid epidemic, the MOA allocates 15 percent of settlement funds to the State and sends the remaining 85 percent to NC's 100 counties and 17 municipalities.
---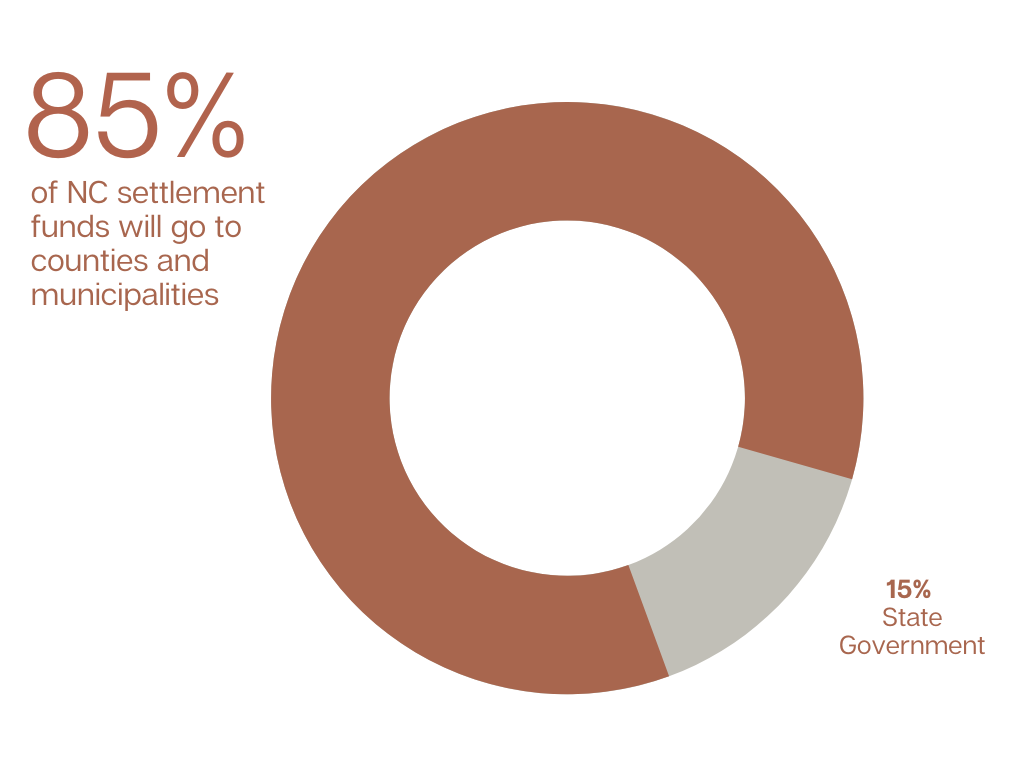 85% of NC settlement funds will go to counties and municipalities
The agreement also ensures transparency about how local governments will use the funds. Counties and municipalities that receive settlement funds will need to create a special revenue fund that will be subject to audit. They will also complete annual financial and impact reports that will be available to the public on this website.
---
How much total funding will my county or city be receiving?
Settlement funds are being allocated to 100 counties and 17 municipalities based on a formula the national counsel representing local governments developed. Funds will begin to be distributed to counties and municipalities in 2022 and continue over a period of 18 years.
---
How do local agencies spend the money once it arrives?
Before spending settlement funds, every local county or municipality must first select which opioid mitigation strategies they would like to fund.
---
How will local agencies report on what they spend?
Any local government that spends opioid settlement funds will be required to file financial reports and impact information on an annual basis.